Consultation on research needs in research methods in the UK social sciences
Wiles, Rose and Bardsley, Nicholas and Powell, Jackie (2009) Consultation on research needs in research methods in the UK social sciences. Project Report. NCRM.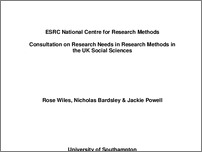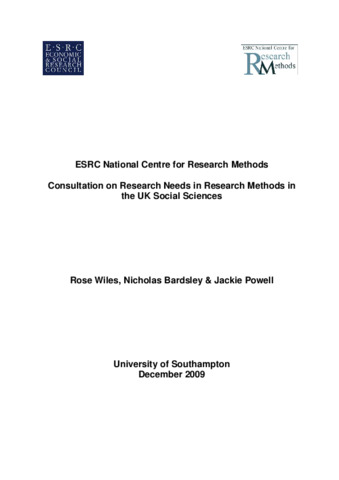 Preview
PDF (Report)




Report_final.pdf


Download (116kB) | Preview
Abstract
One of the objectives of the National Centre for Research Methods (NCRM) is to assess current national provision and national needs in research methods and training through consultation with key stakeholders.
An extensive consultation on the needs for research in research methods was undertaken in 2006. This report is an update of that exercise. Four groups of people participated in this consultation via interview or questionnaire: leading researchers working on research relating to the seven key ESRC Strategic Research Challenges identified in the ESRC strategic Plan 2009-2014; participants to the 2006 consultation; Directors of NCRM and National Centre for e-Social Science (NCeSS) Nodes; and, learned societies. An open call for responses from the broader social research community was also issued. A total of 32 responses from these various sources were received.
The findings of this consultation identify the perceived needs for research in research methods of a relatively small number of social and economic researchers. These may not be representative of the views of all social scientists but that was not our intention. Rather, they represent the considered views of, primarily, senior social scientists about key areas of future research need. The areas identified overlap to a considerable extent with the findings of the 2006 consultation.
Ten key topics of methodological research need were identified with each one comprising a number of issues. These are listed below. The small-scale and purposive nature of this consultation means it is not possible to attribute any priority to the needs identified on the basis of the responses received.
1. Mixed methods and interdisciplinarity
Development of models to enable the integration of qualitative and quantitative research in single studies that go beyond traditional mixed methods models; methods to enable the integration of data collected via innovative methods with other forms of qualitative or quantitative data; collaboration between social science disciplines and social science and other disciplines to enable methodological development to address key research questions.
2. Naturally occurring digital data and new digital technologies
Methods to capture and analyse new forms of online and digital data; methods to enable the use of media tools to collect data; methods to exploit the use of global positioning systems and radio frequency identification and other mobile devices in research.
3. Longitudinal methods
The development of enhanced qualitative longitudinal methods to track change and continuity over time; development of methods to determine causality using longitudinal data; development of methods for dynamic programming and path dependence in discrete choice models; development of methods for combining event history analysis with multi-level modelling and the analysis of data with spatial structure.
4. Data linkage
Methodological research to develop understanding of the properties of linked data; research in spatial/temporal trends, bias adjustment and imputation of missing covariates and outcomes; methodological research to improve the availability of data linkage tools to ensure access and data security; methodological development to enable the linking of bio-medical and socio-economic data; research on the integration of transactional data and other forms of digital data
5. Policy evaluation
Development of methods to analyse the effect of multiple interventions on outcomes and the importance of social contexts; further work on microsimulation models; further development of systematic review methods.
6. Innovations in qualitative research
Development of ethnographic approaches; critical evaluation of mobile methods; methodological development of sensory methods; development of methods and technology to enable the archiving and sharing of multi-media qualitative data.
7. Survey methods
Research on sampling and analysis in internet and mixed-mode surveys; research on the use of paradata; methods for minimising non-response bias.
8. Comparative research
The development of methods for cross-cultural comparisons and for the incorporation of qualitative and quantitative data in comparative analysis; development of comparative historical research methods; standardisation and harmonisation of measures for comparative microdata.
9. The ethics, politics and practice of research
Research on the ethical issues arising from online and digital methods and data use; methods for engaging non-academic users; methods for measuring the impact of research on policy and practice.
10. Holistic methods
Development of methods within a complexity theory framework; development of holistic and interdisciplinary research methods to explore issues such as environmental change.
While the 2006 Research Needs Consultation was used as a template for organising the emerging topics from this consultation, there are some important similarities and differences. The continuing need for research within the areas of mixed methods, interdisciplinarity, policy evaluation, comparative research, data linkage, longitudinal research, survey methods, and innovative qualitative methods are evident. Three new areas of methodological research need were also identified: naturally occurring digital data and technological developments; the ethics, politics and practice of research; and, holistic methods.
This consultation has explored the methodological research needs perceived by, among others, those addressing substantive research topics identified as current 'strategic research challenges' by the ESRC. The need for methodological research to enable researchers to address these key research challenges as well as issues of research impact is highlighted by this consultation.
Actions (login required)