Changing Social Research Practices in the Context of Covid-19: Rapid Evidence Review
Nind, Melanie and Coverdale, Andy and Meckin, Robert (2021) Changing Social Research Practices in the Context of Covid-19: Rapid Evidence Review. Project Report. NCRM.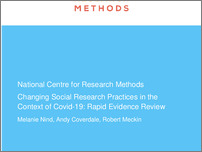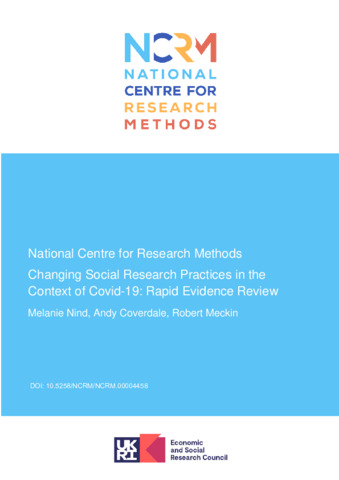 Preview
Text




NCRM Changing Research Practices_Rapid Evidence Review_FINAL REPORT.pdf


Download (844kB) | Preview
Abstract
The Rapid Evidence Review synthesises evidence available in academic publications from 2020 with the aim of charting how social research methods have been successfully adapted for, or designed for use within, the pandemic conditions of Covid-19. Searching six databases identified a potential 896 papers of interest, of which 95 met the inclusion criteria. These span more than 30 countries and discuss various methods, particularly surveys and rapid surveys, interviews, group interviews and focus groups, autoethnographic and ethnographic methods, and expressive and participatory methods. Key methods learning from 64 publications were synthesised to address the main aim. While some (largely expressive and autoethnographic) methods apparently thrived or were well-suited to the social conditions of widespread social anxiety, lockdowns and travel bans, others (e.g. surveys, ethnographies) had to be swiftly and sometimes radically adapted. Data on the efficacy of changes to methods practices were limited at this early stage in publishing from the pandemic era. Some of the adaptations to survey work (e.g. using targeted advertising and options for postal modes to achieve balanced survey samples and stable recruitment numbers) were successful, while isolating mode effects from other variables is largely still a work in progress. Moving interview and focus groups online were largely found to generate rich data, and getting support from community leaders/communities was found to be critical for continuing community-based participatory research. The research community has been resilient in ensuring that their research continues, and that it remains valid, relevant and ethical in the face of extreme challenges and huge social change. The review identifies training needs in specific methods, advanced contingency planning and responsive ethical and epistemic decision-making. This report is intended for researchers at all career stages, research funders and supporting infrastructures.
Actions (login required)