MethodsNews Spring 2012
Puustinen, K and Crow, Graham (2012) MethodsNews Spring 2012. NCRM.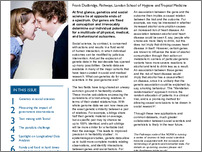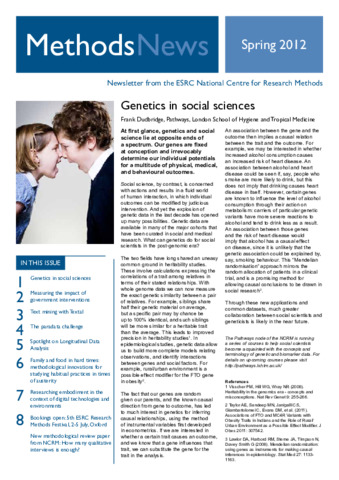 Preview
PDF (NCRM MethodsNews Spring 2012)




MethodsNewsSpring2012.pdf

- Published Version
Download (1MB) | Preview
Abstract
Genetics in social sciences, by Frank Dudbridge, Pathways, London School of Hygiene and Tropical Medicine;
Measuring the impact of government interventions, by Barbara Sianesi from PEPA node, Institute for Fiscal Studies;
Text mining with Textal, by Steven Gray from TALISMAN node and Melissa Terras from UCL Centre for Digital Humanities;
The paradata challenge, by Gerry Nicolaas from NatCen Social Research;
Spotlight on Longitudinal Data Analysis, by Fiona Steele from LEMMA node, Centre for Multilevel Modelling, University of Bristol;
Families and food in hard times: methodological innovations for studying habitual practices in times of austerity, by Abigail Knight from NOVELLA node, Institute of Education;
Researching embodiment in the context of digital technologies and environments, by Carey Jewitt and Sara Price from MODE node, London Knowledge Lab, Institute of Education;
Bookings open: 5th ESRC Research Methods Festival, 2-5 July 2012, Oxford;
New methodological review paper from NCRM: How many qualitative interviews is enough?
Actions (login required)