Approaches to Narrative Research
Squire, Corinne (2008) Approaches to Narrative Research. Discussion Paper. N/A. (Unpublished)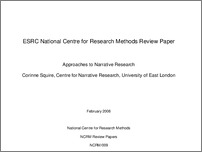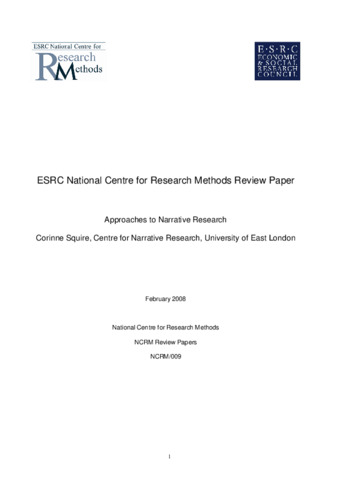 Preview
PDF




MethodsReviewPaperNCRM-009.pdf


Download (216kB) | Preview
Abstract
This paper outlines major social research perspectives on narrative, and proposes a pragmatics
of narrative research. Narratives are an increasingly popular focus of social research. The paper
critically examines narrative focuses, from the microlevel of event narratives, through narratives of
experience, to larger cultural narratives. It investigates methods that address narrative syntax,
meanings, and contexts. It looks at ethics; data selection, gathering, transcribing and analysis;
and the drawing of local and more general conclusions from narrative research. It also explores
the theoretical assumptions operating, often implicitly, within narrative research perspectives. As
well as drawing on key research texts in the field, the paper uses examples from the author's
interview studies of people's stories of living with HIV. The paper ends with some study
questions, and a list of primary readings.
Actions (login required)