Practice Policy Briefing: Participatory Action Research - Engaging marginalised communities in policy and practice
Erel, Umut and Reynolds, Tracey and Kaptani, Erene and O'Neill, Maggie (2017) Practice Policy Briefing: Participatory Action Research - Engaging marginalised communities in policy and practice. Other. Runnymede Trust, London.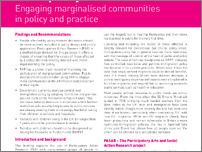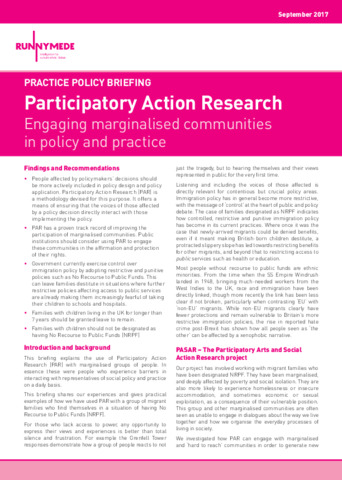 Preview
PDF




3. Practice Policy Briefing Participatory Action Research Engaging marginalised communities in policy and practice.pdf

- Published Version
Download (1MB) | Preview
Abstract
This briefing explains the use of Participatory Action Research (PAR) with marginalised groups of people. In essence these were people who experience barriers in interacting with representatives of social policy and practice on a daily basis.
This briefing shares our experiences and gives practical examples of how we have used PAR with a group of migrant families who find themselves in a situation of having No Recourse to Public Funds (NRPF).
For those who lack access to power, any opportunity to express their views and experiences is better than total silence and frustration. For example the Grenfell Tower responses demonstrate how a group of people reacts to not just the tragedy, but to hearing themselves and their views represented in public for the very first time.
Listening and including the voices of those affected is directly relevant for contentious but crucial policy areas. Immigration policy has in general become more restrictive, with the message of 'control' at the heart of public and policy debate. The case of families designated as NRPF indicates how controlled, restrictive and punitive immigration policy has become in its current practices. Where once it was the case that newly-arrived migrants could be denied benefits, even if it meant making British-born children destitute, a protracted slippery slope has led towards restricting benefits for other migrants, and beyond that to restricting access to public services such as health or education.
Most people without recourse to public funds are ethnic minorities. From the time when the SS Empire Windrush landed in 1948, bringing much-needed workers from the West Indies to the UK, race and immigration have been directly linked, though more recently the link has been less clear if not broken, particularly when contrasting 'EU' with 'non-EU' migrants. While non-EU migrants clearly have fewer protections and remain vulnerable to Britain's more restrictive immigration policies, the rise in reported hate crime post-Brexit has shown how all people seen as 'the other' can be affected by a xenophobic narrative.
Actions (login required)