Availability and use of UK based ethnicity data for health research
Mathur, Rohini and Grundy, Emily and Smeeth, Liam (2013) Availability and use of UK based ethnicity data for health research. NCRM Working Paper. n/a. (Unpublished)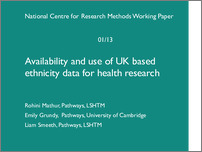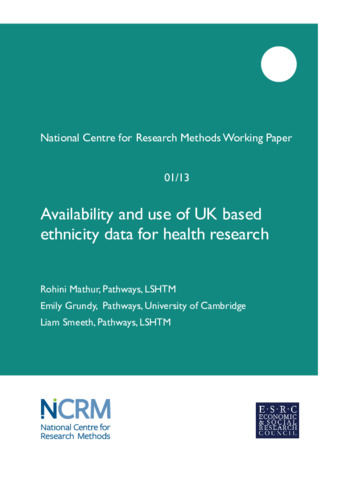 Preview
Text (NCRM Working Paper from PATHWAYS)




Mathur-_Availability_and_use_of_UK_based_ethnicity_data_for_health_res_1.pdf

- Accepted Version
Available under License Creative Commons Attribution.
Download (362kB) | Preview
Abstract
The aim of this working paper is to inform researchers of the availability of ethnicity data in
population based datasets which are available for use in epidemiological and social science research.
The paper begins by introducing the concept of ethnicity and problems associated with definition
and classification. Secondly, the paper charts the evolution of ethnicity recording in the UK census
and how this has been incorporated across the NHS. Thirdly, the paper focuses down on to the
relationship between ethnicity and health and describes electronic NHS databases in which routinely
collected ethnicity data are available for research purposes. Finally, the paper briefly reviews existing
work on ethnicity and health which has been undertaken using population wide data from the ONS
Longitudinal Study and NHS databases.
Actions (login required)