How many qualitative interviews is enough
Baker, Sarah Elsie and Edwards, Rosalind (2012) How many qualitative interviews is enough. Discussion Paper. NCRM. (Unpublished)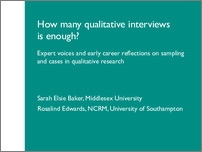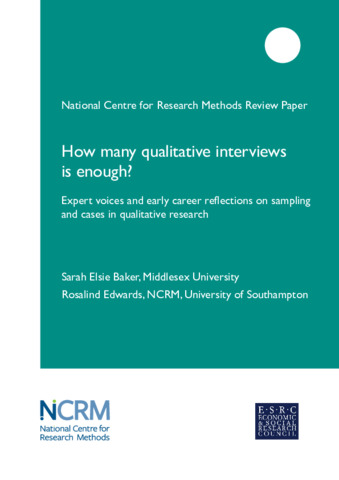 Preview
PDF (Methodological Review Paper)




how_many_interviews.pdf

- Accepted Version
Download (1MB) | Preview
Abstract
Students conducting a piece of qualitative research frequently ask 'how many interviews is enough?' Early
career researchers and established academics also consider this question when designing research projects.
In this NCRM Methods Review paper we gather and review responses to the question of 'how many' from 14
renowned social scientists and 5 early career researchers. The riposte to the question of 'how many' from
most contributors is 'it depends'. In considering what 'it depends upon' however, the responses offer
guidance on the epistemological, methodological and practical issues to take into account when conducting
research projects. This includes advice about assessing research aims and objectives, validity within
epistemic communities and available time and resources.
Actions (login required)