Anthropology and Bioethics: linking knowledge production and professional regulation
Unnithan-Kumar, Maya Anthropology and Bioethics: linking knowledge production and professional regulation. Discussion Paper. Unpublished. (Unpublished)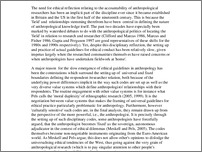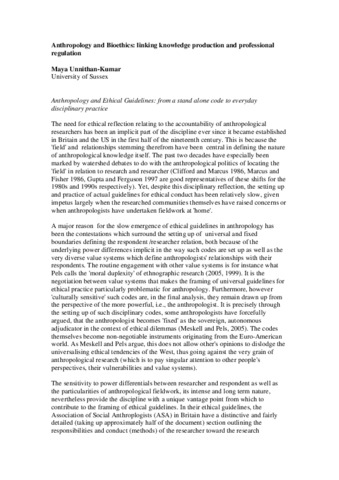 Preview
PDF




MayaUnnithanUniversityofSussex.pdf


Download (27kB) | Preview
Abstract
The need for ethical reflection relating to the accountability of anthropological researchers has been an implicit part of the discipline ever since it became established in Britain and the US in the first half of the nineteenth century. This is because the 'field' and relationships stemming therefrom have been central in defining the nature of anthropological knowledge itself. The past two decades have especially been marked by watershed debates to do with the anthropological politics of locating the 'field' in relation to research and researcher (Clifford and Marcus 1986, Marcus and
Fisher 1986, Gupta and Ferguson 1997 are good representatives of these shifts for the
1980s and 1990s respectively). Yet, despite this disciplinary reflection, the setting up
and practice of actual guidelines for ethical conduct has been relatively slow, given impetus largely when the researched communities themselves have raised concerns or
when anthropologists have undertaken fieldwork at 'home'.
Actions (login required)