The archive in question
Geiger, Till and Moore, Niamh and Savage, Mike (2010) The archive in question. Discussion Paper. NCRM. (Unpublished)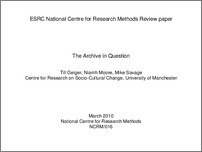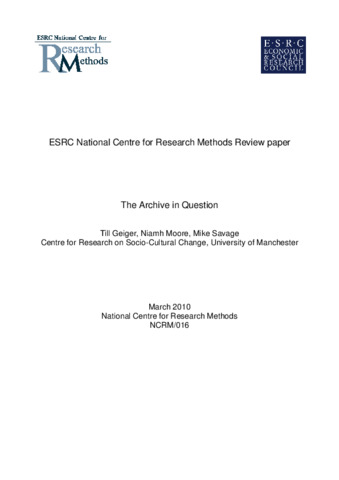 Preview
PDF




Moore_review_paper_march_10.pdf


Download (153kB) | Preview
Abstract
The archive has become central across a range of disciplines and domains. Perhaps paradoxically for some, this very foregrounding of the archive has been facilitated by its very destabilization, which has opened it up to new possibilities and the production of new knowledge. The authority and foundations of the archive have been called into question. In fact arguably it is the friction between and within disciplines, subdisciplines and interdisciplines which has been so productive, and hence most revealing of the archive's potential. However different disciplines and professional and popular domains (and their overlaps) have produced different anxieties, and possibilities. This paper then attends to the different disciplines which have reflected on (and created) the archive, and to the
tensions and frictions between. Specifically the paper turns to one of the more recent entrants into the field of the archive - sociology - which has received little attention in the literature on the archive. However in the context of the unravelling archive the entry of sociology into the debate is curious. Some of the sociological anxieties around the archive – the importance of context, anxieties around ethical issues including informed consent,
anonymity and confidentiality, and concerns about representativeness, validity and generalisability, would appear to threaten to restabilize the archive. Through reflecting on these issues, the paper aims to explore the pitfalls and potentials of 'the sociologisation of
the archive'.
Actions (login required)