NCRM Methods Review Papers, NCRM/006. Geographically Weighted Regression
Charlton, Martin and Fotheringham, Stewart and Brunsdon, Chris (2006) NCRM Methods Review Papers, NCRM/006. Geographically Weighted Regression. Discussion Paper. Unpublished. (Unpublished)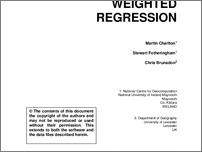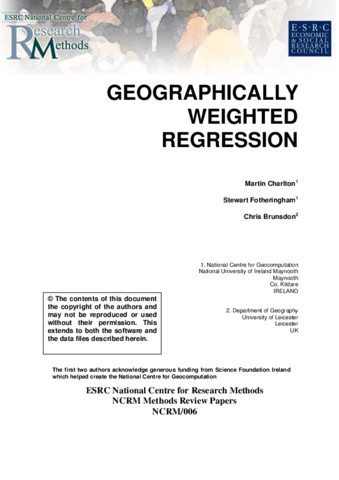 Preview
PDF




MethodsReviewPaperNCRM-006.pdf


Download (367kB) | Preview
Abstract
This text is written as a follow-up to a two-day workshop on Geographically Weighted Regression (GWR) held at the University of Leeds, June 2005. The aim of this text is
both to introduce the reader to the basic concept of GWR through several empirical examples and also to demonstrate how to run GWR with software specifically written for
this purpose. The software, GWR 3.0, is available from the authors and details can be found at: http://ncg.nuim.ie/GWR It is highly recommended that this software be used in conjunction with this text. It should be noted that GWR 3.0 produces a set of localised statistics that can be imported into other software for mapping.
Actions (login required)