Five Strategies for Practising Interdisciplinarity
Krishnan, Armin Five Strategies for Practising Interdisciplinarity. NCRM Working Paper. National Centre for Research Methods.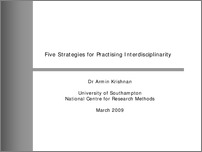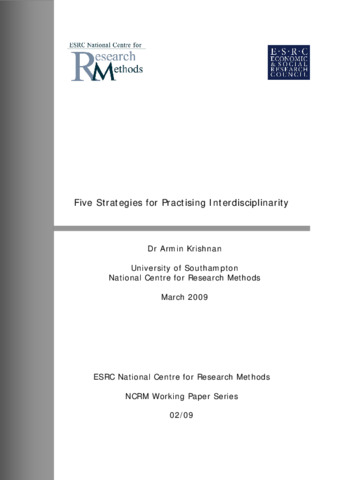 Preview
PDF




strategies_for_practising_interdisciplinarity.pdf


Download (339kB) | Preview
Abstract
The purpose of this short paper is to discuss five approaches or strategies for conducting interdisciplinary research. All of these strategies have their promises and pitfalls, which will be explored. Although all researchers are certainly well advised to look beyond their own discipline, it is also clear that little could be gained by choosing an interdisciplinary research strategy just for the sake of it. In the end, it very much depends on the problem that the researcher aims to solve whether a disciplinary or an interdisciplinary approach would be more successful. Furthermore, it is also important which strategy of interdisciplinarity is chosen and with what kind of aim or ambition. The major questions are whether the aim is to solve a narrow research problem, which may benefit from an interdisciplinary approach, whether it is a problem that arises and is attacked in a non-academic context, whether the problem is in itself complex and discipline-transgressing, whether this fact may require the sharing of concepts, theories and methods across disciplines, or whether the array of problems is so big and complex that it necessitates the creation of a superdiscipline. Depending on the answers to these questions an individual researcher or a research community will choose one of the five different strategies discussed.
Actions (login required)