Understanding HIV/AIDS in Uganda: a Question of Sites and Positions
Whyte, Michael (2005) Understanding HIV/AIDS in Uganda: a Question of Sites and Positions. In: Problems and Possibilities in Multi-sited Ethnography Workshop, 27-28 June 2005, University of Sussex. (Unpublished)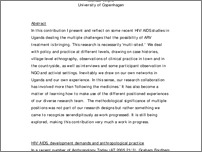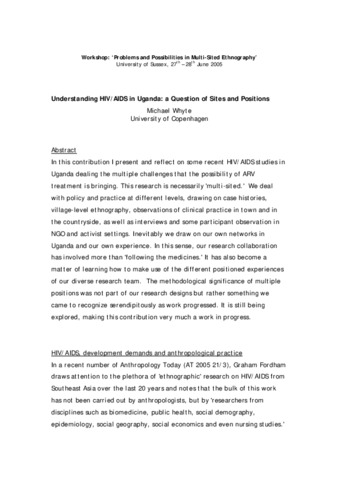 Preview
PDF




michaelwhyte.pdf


Download (42kB) | Preview
Abstract
In this contribution I present and reflect on some recent HIV/AIDS studies in Uganda dealing the multiple challenges that the possibility of ARV treatment is bringing. This research is necessarily 'multi-sited.' We deal with policy and practice at different levels, drawing on case histories, village-level ethnography, observations of clinical practice in town and in the countryside, as well as interviews and some participant observation in NGO and activist settings. Inevitably we draw on our own networks in Uganda and our own experience. In this sense, our research collaboration has involved more than 'following the medicines.' It has also become a matter of learning how to make use of the different positioned experiences
of our diverse research team. The methodological significance of multiple positions was not part of our research designs but rather something we came to recognize serendipitously as work progressed. It is still being
explored, making this contribution very much a work in progress.
Actions (login required)