In the field with designers and in the field with economists - Ground-truthing economists' models of organisation and innovation
Hales, Michael (2005) In the field with designers and in the field with economists - Ground-truthing economists' models of organisation and innovation. In: Problems and Possibilities in Multi-sited Ethnography Workshop, 27-28 June 2005, University of Sussex. (Unpublished)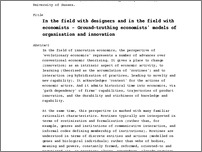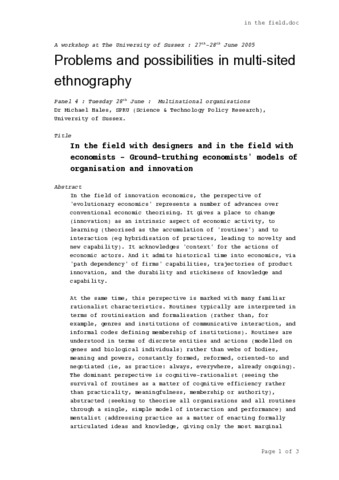 Preview
PDF




michaelhales.pdf


Download (49kB) | Preview
Abstract
In the field of innovation economics, the perspective of
'evolutionary economics' represents a number of advances over conventional economic theorising. It gives a place to change (innovation) as an intrinsic aspect of economic activity, to learning (theorised as the accumulation of 'routines') and to interaction (eg hybridisation of practices, leading to novelty and new capability). It acknowledges 'context' for the actions of economic actors. And it admits historical time into economics, via
'path dependency' of firms' capabilities, trajectories of product innovation, and the durability and stickiness of knowledge and capability.
Actions (login required)