Methods for the synthesis of qualitative research: a critical review
Barnett-Page, E and Thomas, J (2009) Methods for the synthesis of qualitative research: a critical review. NCRM Working Paper. NCRM. (Unpublished)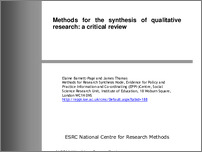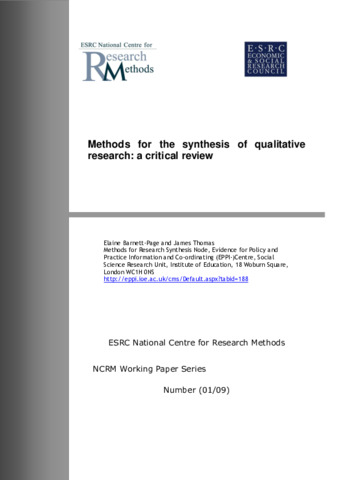 Preview
Text




0109 Qualitative synthesis methods paper NCRM.pdf


Download (512kB) | Preview
Abstract
In recent years, a growing number of methods for synthesising qualitative research have emerged. There is a need for researchers and commissioners to be able to distinguish between these methods and to select which method is the most appropriate to their situation.
We searched the literature, using a high sensitivity Google Scholar search, "pearl-growing" techniques and by hand-searching key journals, to identify distinct approaches to qualitative meta-synthesis.
Two hundred and three papers were found and nine distinct approaches to qualitative synthesis were identified: meta-narrative synthesis, critical interpretive synthesis, meta-study, meta-ethnography, grounded formal theory, thematic synthesis, textual narrative synthesis, framework synthesis and ecological triangulation.
A number of methodological and conceptual links between these methods were identified and explored, while contrasting epistemological positions explained differences in approaches to issues such as quality assessment and extent of iteration. Methods broadly fall into "realist" or "idealist" epistemologies. Commissioners of qualitative syntheses might wish to consider the kind of product they want and select their method – or type of method – accordingly.
Actions (login required)