The four varieties of comparative analysis: the case of environmental regulation
Pickvance, Chris (2005) The four varieties of comparative analysis: the case of environmental regulation. In: National Centre for Research Methods and ESRC Symposium on Small and Large-N Comparative Solutions, September 22-23 2005, University of Sussex, Brighton. (Unpublished)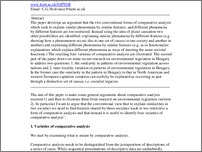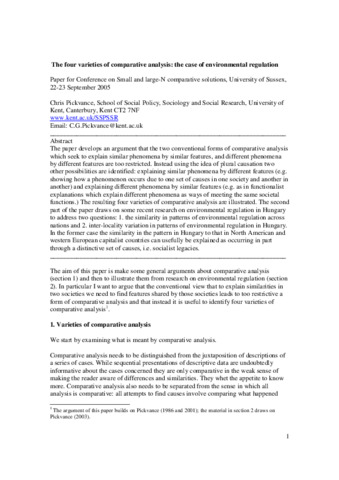 Preview
PDF




chrispickvance.pdf


Download (137kB) | Preview
Abstract
The paper develops an argument that the two conventional forms of comparative analysis
which seek to explain similar phenomena by similar features, and different phenomena
by different features are too restricted. Instead using the idea of plural causation two
other possibilities are identified: explaining similar phenomena by different features (e.g.
showing how a phenomenon occurs due to one set of causes in one society and another in
another) and explaining different phenomena by similar features (e.g. as in functionalist
explanations which explain different phenomena as ways of meeting the same societal
functions.) The resulting four varieties of comparative analysis are illustrated. The second
part of the paper draws on some recent research on environmental regulation in Hungary
to address two questions: 1. the similarity in patterns of environmental regulation across
nations and 2. inter-locality variation in patterns of environmental regulation in Hungary.
In the former case the similarity in the pattern in Hungary to that in North American and
western European capitalist countries can usefully be explained as occurring in part
through a distinctive set of causes, i.e. socialist legacies.
Actions (login required)