Complex clinical data and Gestational Diabetes Mellitus
Hirst, Jane and Lu, Huiqi Yvonne and Mackillop, Lucy and Al Ghadban, Yasmina and Saravanan, Ponnusamy and White, Sara (2023) Complex clinical data and Gestational Diabetes Mellitus. Project Report. National Centre for Research Methods.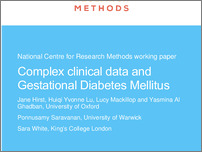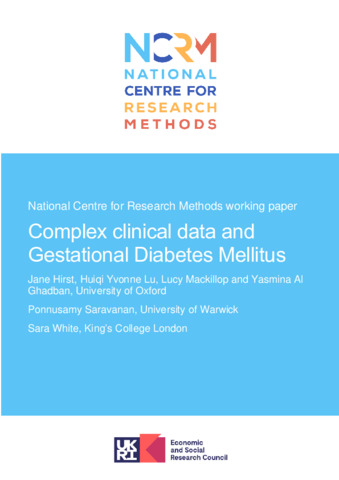 Preview
Text




Complex Clinical Data and Gestational Diabetes Mellitus.pdf


Available under License Creative Commons Attribution.
Download (296kB) | Preview
Abstract
This Innovation Forum brought together a multidisciplinary group of researchers, clinicians, data scientists, industry partners, NHS Digital, and others to discuss the opportunities and challenges for improving clinical care using complex clinical data. The workshop focussed on one specific clinical challenge, Gestational Diabetes Mellitus (GDM), with consideration of other data science challenges and solutions in pregnancy care more widely and other clinical conditions.
The Forum was an opportunity to learn about specific data challenges researchers had experienced, learn from what has worked, and where further research is needed. We identified several opportunities for GDM data research in the UK, including the commissioning of the first national GDM audit and a need to focus on preventing type 2 diabetes after GDM in young women. The Forum identified six areas for future work and funding: (i) support for infrastructure to enable data science in this field; (ii) the need to map available data sources in the UK for pregnancy research; (iii) streamlined solutions for ethical approvals and regulatory support; (iv) improving data quality, linkage and access for researchers; (v) development of machine learning and statistical approaches; and (vi) the need to collaborate with clinicians, women and their families to make sure data science improves lives.
Actions (login required)