Digital Methods of Working with Children: Ethics, Rights and Responsibilities
Horowicz, Edmund and Stalford, Helen and Heah, Rachel (2023) Digital Methods of Working with Children: Ethics, Rights and Responsibilities. Other. National Centre for Research Methods / European Children's Rights Unit.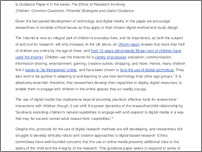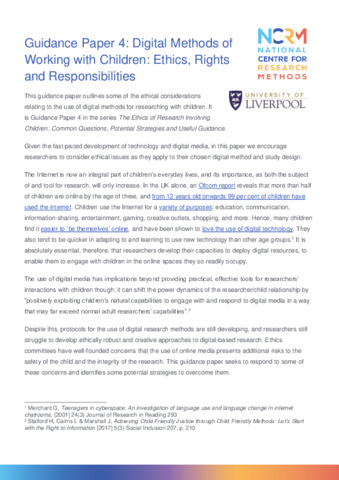 Preview
Text




Digital Methods of Working with Children – Ethics, Rights and Responsibilities.pdf


Download (258kB) | Preview
Abstract
This guidance paper outlines some of the ethical considerations relating to the use of digital methods for researching with children. It is Guidance Paper 4 in the series The Ethics of Research Involving Children: Common Questions, Potential Strategies and Useful Guidance.
Given the fast-paced development of technology and digital media, in this paper we encourage researchers to consider ethical issues as they apply to their chosen digital method and study design.
The Internet is now an integral part of children's everyday lives, and its importance, as both the subject of and tool for research, will only increase. In the UK alone, an Ofcom report reveals that more than half of children are online by the age of three, and from 12 years old onwards 99% of children have used the internet. Children use the Internet for a variety of purposes: education, communication, information-sharing, entertainment, gaming, creative outlets, shopping, and more. Hence, many children find it easier to 'be themselves' online, and have been shown to love the use of digital technology. They also tend to be quicker in adapting to and learning to use new technology than other age groups. It is absolutely essential, therefore, that researchers develop their capacities to deploy digital resources, to enable them to engage with children in the online spaces they so readily occupy.
The use of digital media has implications beyond providing practical, effective tools for researchers' interactions with children though; it can shift the power dynamics of the researcher/child relationship by "positively exploiting children's natural capabilities to engage with and respond to digital media in a way that may far exceed normal adult researchers' capabilities".
Despite this, protocols for the use of digital research methods are still developing, and researchers still struggle to develop ethically robust and creative approaches to digital-based research. Ethics committees have well-founded concerns that the use of online media presents additional risks to the safety of the child and the integrity of the research. This guidance paper seeks to respond to some of these concerns and identifies some potential strategies to overcome them.
Actions (login required)