Six strategies for mixing methods and linking data in social science research
Mason, Jennifer (2006) Six strategies for mixing methods and linking data in social science research. NCRM Working Paper. ESRC National Centre for Research Methods. (Unpublished)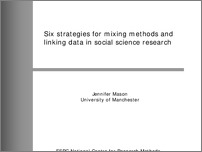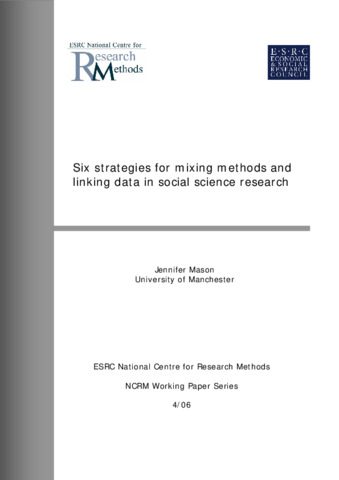 Preview
PDF




0406_six%20strategies%20for%20mixing%20methods.pdf


Download (914kB) | Preview
Abstract
This paper is written as a practical and accessible guide to some key issues in
mixed methods research. It explores six broad strategies that can underpin the
mixing of methods and linking of different forms of data, be they qualitative,
quantitative, or spanning this divide. It does this in a context where mixing
methods has come to be seen as a good thing, and where research funders are
increasingly thought to look favourably upon research proposals involving more
than one method for generating and analysing data. Yet mixing methods for
no good reason other than the sake of it can produce disjointed and unfocussed
research, and can severely test the capabilities of researchers. Researchers
engaging in mixed methods research need to have a clear sense of the logic and
purpose of their approach and of what they are trying to achieve, because this
ultimately must underpin their practical strategy not only for choosing and
deploying a particular mix of methods, but crucially also for linking their data
analytically. The paper outlines challenges and opportunities that each of the
six strategies brings for mixed methods practice and analysis, giving each a
verdict.
Actions (login required)