Anonymising Research Data
Clark, Andrew (2006) Anonymising Research Data. NCRM Working Paper. ESRC National Centre for Research Methods. (Unpublished)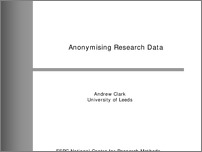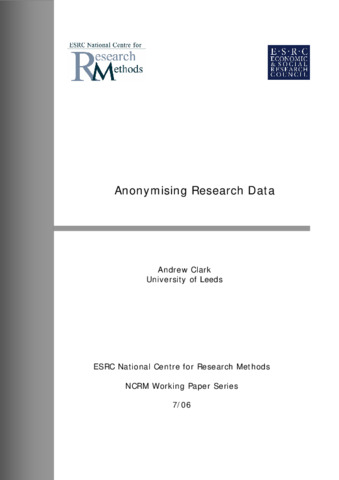 Preview
PDF




0706_anonymising_research_data.pdf


Download (2MB) | Preview
Abstract
This document outlines some thoughts and discussions we have been having
about strategies of anonymisation of data to be collected through the ESRC /
NCRM Real Life Methods Node Connected Lives project1. It is commonplace for
social science research to adopt a policy of 'blanket anonymisation', whereby all
names, places and other identifying features are disguised across a data set,
including from interview transcripts, diaries and field notes. Here, I consider the
practical and theoretical implications of such a strategy and suggest that
anonymisation is not a process to be conducted – and assumed completed – at
just one stage of the research process. Moreover, anonymisation strategies
cannot be separated out from other methodological (such as issues around
archiving or mixing methods) or indeed substantive issues (such as enabling
deeper appreciation of the relationality of networks, or the ways in which space
might be constructed). The implications of whatever anonymisation strategy
researchers adopt on the future ability to appreciate the social and spatial
processes behind networks, neighbourhoods and communities, need to be made
clear throughout the research process. In summation, this document argues for
a more reflexive, iterative approach to anonymisation and confidential that
situates these, and other ethical concerns, in the context of the social process.
Actions (login required)