Public opinion as questions not answers: How citizens evaluate the therapeutic potential of stem cell research in the context of T1 diabetes
Kotchetkova, Inna and Evans, Robert and Langer, Susanne (2007) Public opinion as questions not answers: How citizens evaluate the therapeutic potential of stem cell research in the context of T1 diabetes. NCRM Working Paper. ESRC National Centre for Research Methods. (Unpublished)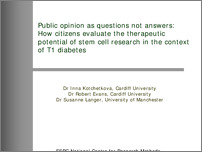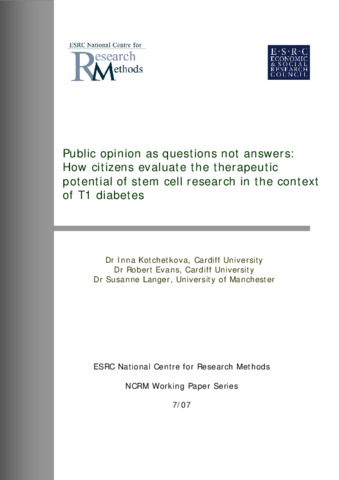 Preview
PDF




0707_public_opinion_as_questions_not_answers.pdf


Download (299kB) | Preview
Abstract
It is now commonplace for policy-makers, think -tanks and social scientists to call
for increased public participation in science and technology policy (e.g. House of
Lords, 2000; Wilsden and Willis, 2004; CST, 2005). Nowhere is this more
apparent than in stem cell science. The recent Pattison report1 on the UK Stem
Cell Initiative called on the government to invest at least £350m in stem cell
research by 2016 and also stressed the importance of maintaining a 'close liaison
of parties involved in developing regulation and public dialogue on stem cell
research' (recommendations 8 & 11). Whilst laudable, the idea of increased
participation is not without its problems. For example, one frequently expressed
concern is that public dialogue comes too late in the process to effect any
significant change. From this perspective, consultation exercises are seen as
ways of re-building trust so that what is presented as an exercise in democratic
participation can often be interpreted as an investigation into how to gain support
of the public (cf Irwin, 2001, 2006; Rayner, 2003; Rowe and Frewer, 2004).
Actions (login required)