On Burning, Saving and Stealing Letters
Jolly, Margaretta (2008) On Burning, Saving and Stealing Letters. In: Ethics and Archives, 2008-09-19, University of Essex.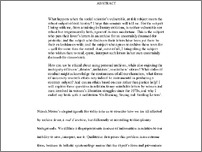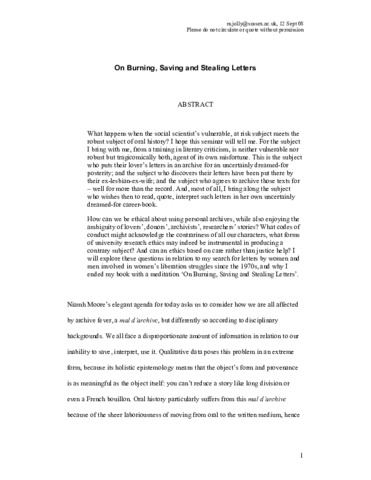 Preview
PDF




JollySep2008rev.pdf


Download (153kB) | Preview
Abstract
What happens when the social scientist's vulnerable, at risk subject meets the robust subject of oral history? I hope this seminar will tell me. For the subject I bring with me, from a training in literary criticism, is neither vulnerable nor robust but tragicomically both, agent of its own misfortune. This is the subject who puts their lover's letters in an archive for an uncertainly dreamed-for posterity; and the subject who discovers their letters have been put there by their ex-lesbian-ex-wife; and the subject who agrees to archive those texts for - well for more than the record. And, most of all, I bring along the subject who wishes then to read, quote, interpret such letters in her own uncertainly dreamed-for career-book. How can we be ethical about using personal archives, while also enjoying the ambiguity of lovers', donors', archivists', researchers' stories? What codes of conduct might acknowledge the contrariness of all our characters, what forms of university research ethics may indeed be instrumental in producing a contrary subject? And can an ethics based on care rather than justice help? I will explore these questions in relation to my search for letters by women and men involved in women's liberation struggles since the 1970s, and why I ended my book with a meditation 'On Burning, Saving and Stealing Letters'.
Actions (login required)