Assessing Satisfaction: Insights from a multi-methods study
Green, Josephine (2008) Assessing Satisfaction: Insights from a multi-methods study. NCRM Working Paper. ESRC National Centre for Research Methods. (Unpublished)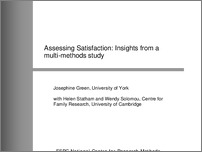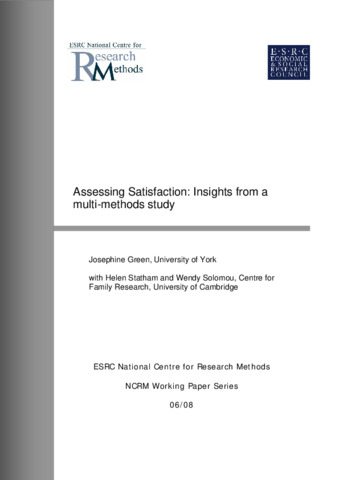 Preview
Text




0608 assessing satisfaction.pdf


Download (451kB) | Preview
Abstract
The data to be discussed in this paper arose from a study of the experiences of
parents who had an unborn baby with a serious abnormality. The study used
multiple methods to assess parents' satisfaction with aspects of their care which
thus allow us some insights into methodological issues in the numerical rating of
satisfaction. It is increasingly being recognised that 'satisfaction' is a complex
construct whose measurement is problematic. There is a growing literature on
this topic, including a systematic review published by the NHS R&D Health
Technology Assessment programme (Crow et al 2002). In the present paper, we
will outline some of the specific issues in measuring and defining satisfaction
which arose in this study and which we believe have much wider applicability.
Although they inevitably serve to draw attention to the limitations of numerical
scoring of satisfaction, they also illuminate the concept of satisfaction and enrich
our understanding of it.
Actions (login required)