Jane Gray on researching social change over time
McDonald, Catherine and Gray, Jane (2022) Jane Gray on researching social change over time. [Audio]

Audio (Podcast)




NCRM_podcast_Jane Gray.mp3


Available under License Creative Commons Attribution.
Download (19MB)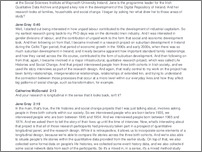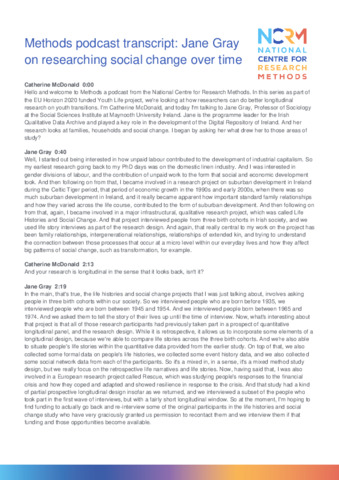 Preview
Text




Transcript_Jane Gray_Methods.pdf


Download (145kB) | Preview
Abstract
In this episode of the Methods podcast, host Catherine McDonald talk to Jane Gray Professor of Sociology at the Social Sciences Institute at Maynooth University in Ireland. Jane is the programme leader for the Irish Qualitative Data Archive and played a key role in the development of the Digital Repository of Ireland and her research looks at families, households and social change.
Jane discusses her passion for looking at how individual lives intersect with macro social change and what patterns can be found within that, the range of different approaches she adopts when it comes to analysis and the importance of knowing your audience when it comes to the writing up of your research.
The Methods podcast is produced by the National Centre for Research Methods as part of the EU Horizon2020 funded YouthLife project, and is looking at how researchers can do better longitudinal research on youth transitions.
For further information on the YouthLife project, visit www.EUqualimix.ncrm.ac.uk
Actions (login required)