Changing Social Research Practices in the Context of Covid-19: Updated Rapid Evidence Review – Synthesis of the 2021 Literature
Nind, Melanie and Coverdale, Andy and Meckin, Robert (2022) Changing Social Research Practices in the Context of Covid-19: Updated Rapid Evidence Review – Synthesis of the 2021 Literature. Project Report. National Centre for Research Methods.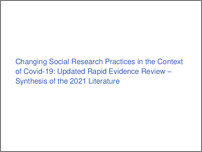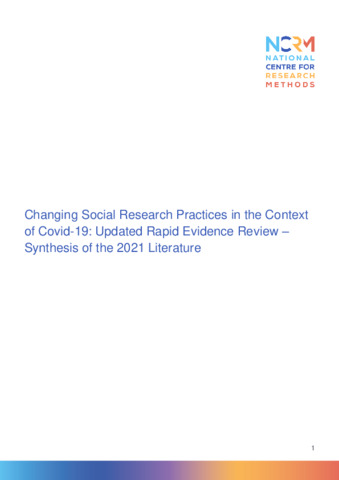 Preview
Text




NCRM Changing Research Practices_Rapid Evidence Review.pdf


Download (942kB) | Preview
Abstract
This Rapid Evidence Review synthesises evidence available in academic publications from 2021 to update the review of evidence from 2020 https://eprints.ncrm.ac.uk/id/eprint/4458/. Once again the aim has been to chart how social research methods have been successfully adapted for, or designed for use within, the pandemic conditions of Covid-19. Searching six databases for 2021 papers identified a potential 4,354 papers of interest (compared with the 922 of 2020). Of these papers, 2,006 met the inclusion criteria (compared to 95 from the 2020 literature). The papers span 45 countries and discuss many of the same methods from 2020 review: surveys and rapid surveys, interviews, group interviews and focus groups, autoethnographic and ethnographic methods, and expressive and participatory methods. Additionally, papers address workshop-based methods via videoconferencing and whiteboarding platforms, outdoor and hybrid outdoor/online methods, adaptation of home visit methods to online and adaptation of randomised control trials. Key methods learning from 138 publications were synthesised to address the main aim, adding to the knowledge base from the 64 papers synthesised in 2020.
Much of the 2021 literature reinforces the key messages from 2020 about methods that have apparently thrived or were well-suited to the social conditions of Covid-19 and those that have been minorly, through to radically, adapted. New topics have also arisen, including conducting in-person interviews with masks and from a distance, hygiene/safety protocols for in-person survey and other methods, and participant preferences when give the option of being interviewed in person or online. The evidence indicates that the impact of changes to the social world from Covid-19 on social research practices involves more than just the pivot to online methods. It includes: adapting recruitment processes, innovation in methods, designing for flexibility and speed and for research from people's homes, coping with different impacts on different groups and the potential to miss engagement of some groups, and strengthening relationships with stakeholders and within research teams. The 2021 literature shows not just the stress on urgency of methodological response (making research happen), but continuing concern with research quality (making research valid and trustworthy) and research relationships (making research ethical). A new theme in the literature is the longevity or permanence of changes to methods in the face of uncertainty about what social changes will last and what new changes will arise (making research sustainable). We conclude that methodological discussion has expanded to consider the future and that researchers have found ways not just to get through a crisis, but to carry on over a prolonged period of disruption, better prepared for further contextual crises.
Actions (login required)