Managing anonymity and confidentiality in social research: the case of visual data in Community research
Crow, Graham and Wiles, Rose (2008) Managing anonymity and confidentiality in social research: the case of visual data in Community research. NCRM Working Paper. ESRC National Centre for Research Methods. (Unpublished)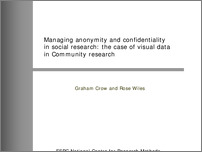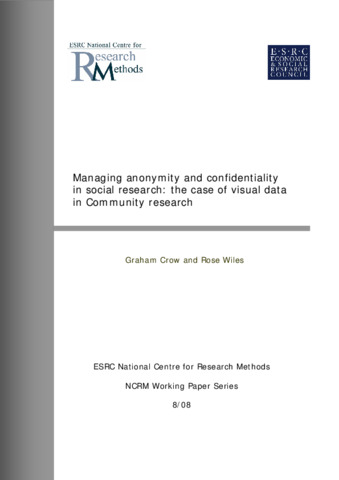 Preview
Text




0808_managing anonymity and confidentiality.pdf


Download (205kB) | Preview
Abstract
Anonymity and confidentiality of participants are central to ethical research practice
in social research. Where possible, researchers aim to assure participants that every
effort will be made to ensure that the data they provide can not be traced back to them
in reports, presentations and other forms of dissemination. The primary method
researchers use to preserve anonymity and confidentiality is the use of pseudonyms
for participants and also for the location of the research. In addition, other practices,
such as changing the reported characteristics of participants (such as gender or
occupation) are also used by some researchers to conceal identities and thereby
maintain the confidentiality of the data provided by participants. There are several
issues that such practices raise. One is that it is difficult for researchers to know how
far to take anonymisation of individuals in order for them not to be identifiable, given
that research findings may be presented to a variety of audiences, including members
of participants' communities. A second issue is that research participants hold
differing views about the desirability of anonymisation, presenting researchers with
difficult choices between respecting the preferences of those participants who wish to
be identifiable and those who prefer to remain anonymous. A third issue is that of
whether or not to attempt the anonymisation of the location of the research, which
may be adjudged more or less practical or impractical (depending on its
distinctiveness) and more or less desirable (depending on its importance in providing
the social context of the analysis that is being developed). This paper explores these
issues by looking at how they have been handled by researchers in the field of
community sociology (broadly defined) who have used visual data in their reports. This analysis allows the argument to be developed that although the issues themselves
are not new, the ways in which they are handled by researchers are necessarily
evolving in the context of technological change, the growth of research regulation,
and shifts in the expectations of research that participants hold.
Actions (login required)