The NCRM wayfinder guide to moving to secondary data analysis
Macdonald, Jacob and Green, Mark and Gibin, Maurizio (2021) The NCRM wayfinder guide to moving to secondary data analysis. National Centre for Research Methods.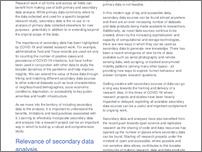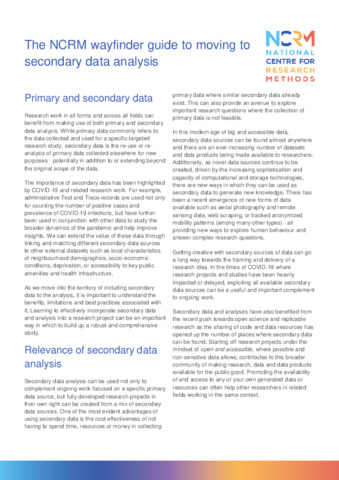 Preview
Text




NCRM Wayfinder guide to moving to secondary data analysis.pdf

- Published Version
Download (85kB) | Preview
Abstract
Research work in all forms and across all fields can benefit from making use of both primary and secondary data analysis. While primary data commonly refers to the data collected and used for a specific targeted research study, secondary data is the re-use or re-analysis of primary data collected elsewhere for new purposes – potentially in addition to or extending beyond the original scope of the data.
The importance of secondary data has been highlighted by COVID-19 and related research work. For example, administrative Test and Trace records are used not only for counting the number of positive cases and prevalence of COVID-19 infections, but have further been used in conjunction with other data to study the broader dynamics of the pandemic and help improve insights. We can extend the value of these data through linking and matching different secondary data sources to other external datasets such as local characteristics of neighbourhood demographics, socio-economic conditions, deprivation, or accessibility to key public amenities and health infrastructure.
As we move into the territory of including secondary data to the analysis, it is important to understand the benefits, limitations and best practices associated with it. Learning to effectively incorporate secondary data and analysis into a research project can be an important way in which to build up a robust and comprehensive study.
Actions (login required)