NCRM website user survey: questionnaires and interviews
Martin, David and Nedbalova, Eva (2020) NCRM website user survey: questionnaires and interviews. Technical Report. NCRM.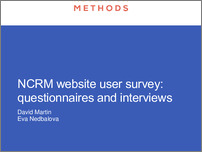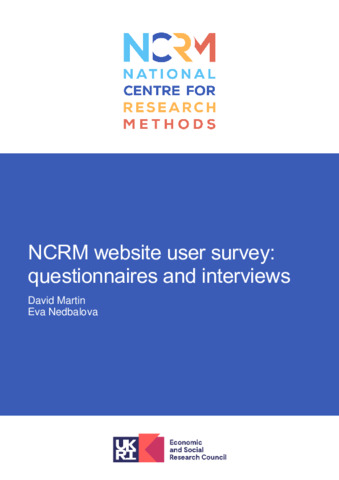 Preview
PDF




NCRM website user survey_questionnaires and interviews_2020_01.pdf


Available under License Creative Commons Attribution.
Download (318kB) | Preview
Abstract
In January 2020 NCRM entered a new phase with an ESRC award for 5 years. The new phase focuses on delivering a comprehensive programme of cutting-edge research methods training across the UK and the design of a new online Training Portal. As part of the design consideration for this new Portal, NCRM has conducted an online survey and face-to-face/remote interviews in order to understand the contexts in which people use the current website (www.ncrm.ac.uk) and their requirements and expectations of the new NCRM Training Portal. We were also seeking to learn more about users' appetite for different levels of interactivity with research methods training content.
The core research questions for both survey and interviews were:
1. In what roles do respondents expect to come to the new Portal?
2. What types of activities and content are they expecting to find?
3. What is respondents' appetite for different types of interactivity in the Portal?
4. Are respondents' users of the existing NCRM website and do they have specific suggestions regarding this?
5. Which other online resources do respondents go to for research methods training content, and why?
Actions (login required)