Disciplined Writing: On the problem of writing sociologically
Smart, Carol (2010) Disciplined Writing: On the problem of writing sociologically. NCRM Working Paper. Realities, part of the National Centre for Research Methods.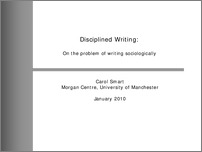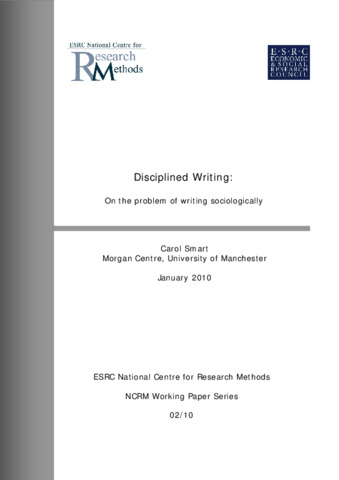 Preview
PDF




disciplined_writing.pdf

- Published Version
Download (490kB) | Preview
Abstract
Any form of writing is a disciplined activity because, even if one enjoys the process, it requires dedication, self-criticism, background research and the ability to create a comprehensible, readable form or shape from (often) ill-disciplined thoughts. But in addition to this, as a sociologist, it is necessary to write within the literary and scientific conventions of a specific discipline. It is not easy to know exactly what the rules of the discipline of sociology are however. Different journals have different conventions. Books may have much greater freedom of expression – but not if you are a 'junior' academic and even there the peer reviewing of manuscripts can be very rule bound. Theoretical writing can offer some freedoms too but it seems only if the writer takes refuge in (relative) incomprehensibility. But writing with qualitative data imposes a different set of requirements or discipline.

In this paper I consider the difficulties we face trying to write differently with these kinds of data and I will critically review my own attempt to meld together different forms of data in order to produce a sociological story which is still recognisably sociological but which may also produce different kinds of stories and engage with different imaginations.
Actions (login required)