Introducing Visual Methods
Prosser, Jon and Loxley, Andrew (2008) Introducing Visual Methods. Discussion Paper. NCRM. (Unpublished)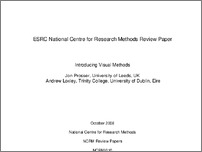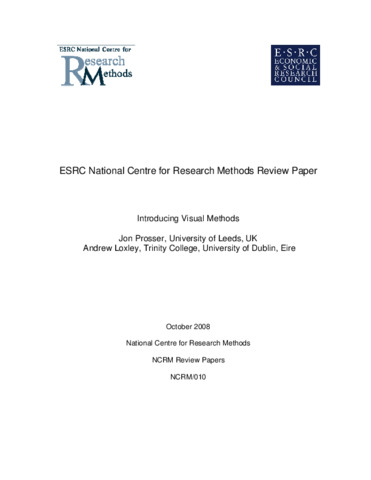 Preview
PDF (NCRM Methods Review paper)




MethodsReviewPaperNCRM-010.pdf


Download (3MB) | Preview
Abstract
Over the last two decades there has been a global surge in interest in visual research
methods. Word and number-based researchers are coming to realise there is considerable
potential for gaining knowledge if image-based methodologies are adopted. This paper
provides and overview of approaches and perspectives broken down into five easily
digested sections to be consumed wholly or in part: early visual research; researcher
created data; respondent created data; research design; and visual ethics. The paper will
be of particular interest to qualitative social scientists new to visual methods or those with
little experience of their application. A wide range of carefully selected references and
resources are included to provide the reader with further in-depth insights.
Actions (login required)