Documents of life and death: Identities beyond the life course in coroners' suicide files
Langer, Susanne and Scourfield, Jonathan and Fincham, Ben (2007) Documents of life and death: Identities beyond the life course in coroners' suicide files. NCRM Working Paper. N/A. (Unpublished)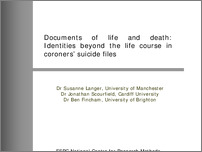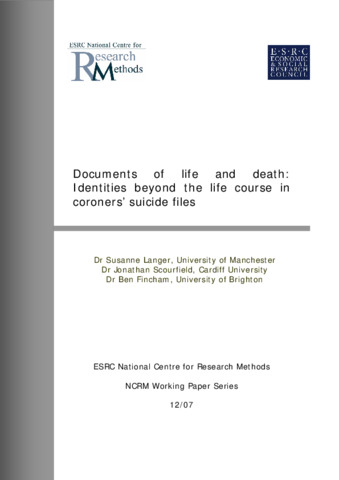 Preview
Text




documents of life and death_1207.pdf


Download (291kB) | Preview
Abstract
In keeping with recent critiques of literature on the body and the life course, the argument of this paper is that social identities can, to a certain extent, be
constructed post-mortem and in the absence of a living body. The authors make this case with reference to a sociological autopsy study of a hundred suicide
case files in a coroners' office in a medium-sized British city. The research draws on ethnographic approaches to documents. There is discussion of some of the diverse data sources in the coroners' files: medical reports, witness
statements and suicide notes. The identity work revealed in these sources is as much about the living as the dead and is especially bound up in the process of avoiding blame.
Actions (login required)