Creating a synthetic spatial microdataset for zone design experiments
Robards, James and Gale, Chris and Martin, David (2017) Creating a synthetic spatial microdataset for zone design experiments. NCRM Working Paper. NCRM.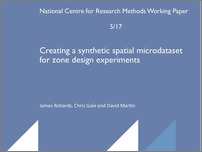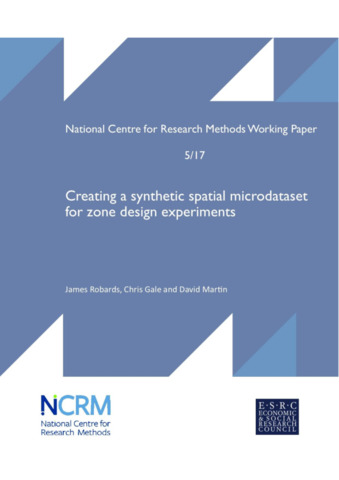 Preview
PDF




Synthetic spatial microdataset.pdf


Available under License Creative Commons Attribution.
Download (9MB) | Preview
Abstract
New forms of administrative and linked data containing high levels of attribute and spatial detail present increased risks of information disclosure about individuals, potentially enabling identification. Evaluation of disclosure risk using real data is not feasible, as disclosive record-level data are understandably not accessible for such research. This paper details development of a synthetic microdataset for England and Wales with a realistic distribution of household locations and individual characteristics. Data for the study comes from the England and Wales 2011 Census and are combined from multiple tables and sources to arrive at the final dataset. Our motivation for this work is exploit the synthetic dataset for assessment of alternative automated zone design solutions, with the eventual aim of improving researcher access to the most useful data while minimising disclosure risk. However, the synthetic microdataset, and the methodological approach used to produce it, potentially have wider utility than our automated zone design research. This working paper documents the generation of our synthetic dataset in a way intended to benefit others needing to conduct experiments on a non-disclosive population microdataset.
Actions (login required)