In search of a social science research methods pedagogy for the digital era: the story so far
Collins, Debbie (2016) In search of a social science research methods pedagogy for the digital era: the story so far. In: British Educational Research Association Annual Conference, 14-16 September 2016, Leeds. (Submitted)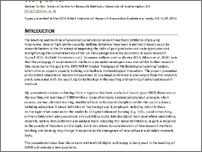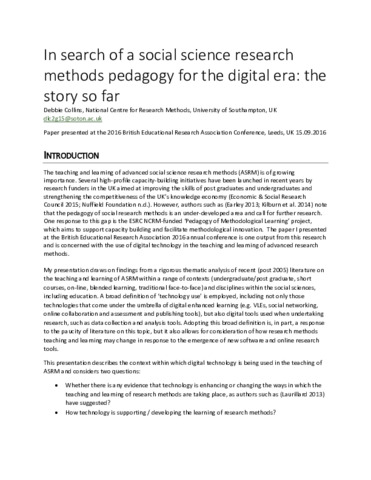 Preview
PDF




__filestore.soton.ac.uk_users_man_mydocuments_NCRM_2014-15 Pedagogy WP5_Outputs_Presentations_BERA 2016_In search of a social science research methods pedagogy for the digital era_Paper.pdf


Available under License Creative Commons Attribution.
Download (516kB) | Preview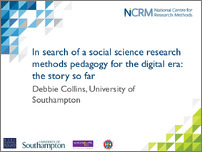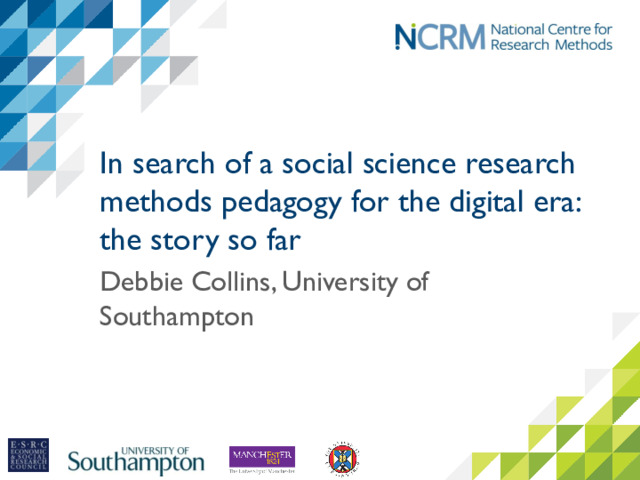 Preview
PDF




__filestore.soton.ac.uk_users_man_mydocuments_NCRM_2014-15 Pedagogy WP5_Outputs_Presentations_BERA 2016_In search of a social science research methods pedagogy for the digital era_Slides.pdf


Available under License Creative Commons Attribution.
Download (852kB) | Preview
Abstract
The teaching and learning of social science research methods in the UK is of growing importance. Several high-profile capacity-building initiatives have been launched in recent years by research funders aimed at improving the skills of post graduate and undergraduates and strengthening the competitiveness of the UK's knowledge economy. However authors such as Earley (2014) and Kilburn, Nind and Wiles (2014) note that the pedagogy of SRM is an under-developed area and call for further research. One response to this gap is the ESRC NCRM-funded 'Pedagogy of Methodological Learning' project, which aims to support capacity building and facilitate methodological innovation. This paper is one output from this research and is concerned with the use of technology in the teaching and learning of advanced research methods.
The paper draws on findings of a rigorous thematic analysis of recent literature on the teaching and learning of SRM within a range of contexts (undergraduate/post graduate, short courses, on-line, blended learning, traditional face-to-face) and disciplines within the social sciences, including education. A broad definition of 'technology use' is employed, including not only those technologies that come under the umbrella of digital enhanced learning (e.g. VLEs, social networking, online collaboration and assessment and publishing tools), but also digital tools used when undertaking research, such as data collection and analysis tools. Adopting this broad definition is, in part, a response to the paucity of literature on this topic, but it also allows for consideration of how research methods teaching and learning may change in response to the emergence of new software and online research tools.
This paper describes the context within which technology is being used in the teaching of SRM and considers:
• What factors influence the choice of technology, for example was this a conscious choice, rooted in pedagogical goals or opportunistic?
• Whether there is any evidence that technology is enhancing or changing the ways in which the teaching and learning of research methods are taking place
• How technology is supporting / developing the learning of research methods?
The paper will highlight gaps in our knowledge and plans to address these through the ESRC NCRM research programme.
Actions (login required)