MethodsNews Spring 2015
Puustinen, K and Nind, Melanie (2015) MethodsNews Spring 2015. NCRM.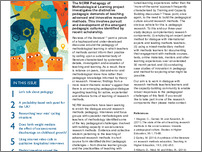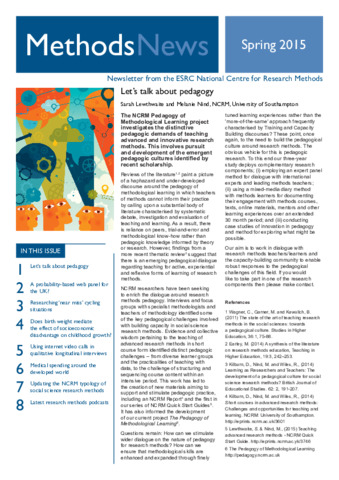 Preview
PDF




MethodsNewsSpring2015.pdf


Available under License Creative Commons Attribution.
Download (2MB) | Preview
Abstract
Contents: Let's talk about pedagogy, by Sarah Lewthwaite and Melanie Nind, NCRM, University of Southampton; A probability-based web panel for the UK? by Patrick Sturgis, NCRM, University of Southampton; Researching 'near miss' cycling situations, by Rachel Aldred, University of Westminster; Does birth weight mediate the effect of socioeconomic disadvantage on childhood growth? by Melissa J Palmer and Richard J Silverwood, London School of Hygiene and Tropical Medicine; Using internet video calls in qualitative longitudinal interviews, by Susie Weller, NCRM, University of Southampton; Medical spending around the developed world, by Eric French and Elaine Kelly, Institute for Fiscal Studies; Updating the NCRM typology of social science research methods, by Rebekah Luff, Dorothy Byatt and David Martin, NCRM, University of Southampton; Latest research methods podcasts.
Actions (login required)