Narrative analysis of paradata from the Poverty in the UK survey: a worked example
Elliott, Heather and Edwards, Rosalind and Ann, Phoenix and Boddy, Janet (2015) Narrative analysis of paradata from the Poverty in the UK survey: a worked example. NCRM Working Paper. NCRM, London. (Unpublished)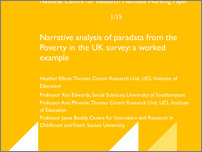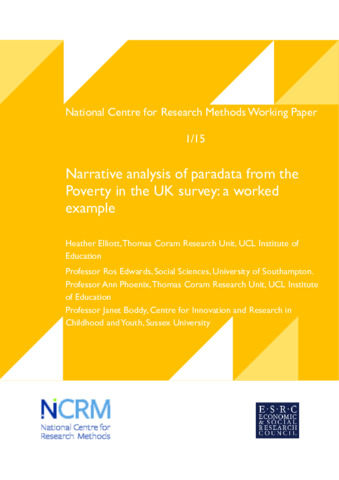 Preview
PDF




narrative_analysis_paradata.pdf


Available under License Creative Commons Attribution.
Download (744kB) | Preview
Abstract
This paper describes how a narrative analysis of survey paradata from Peter Townsend's groundbreaking Poverty in the UK: A Survey of Household Resources and Standards of Living 1967-69 (PinUK) enabled us to address the following issues:
• How the story of one household emerges from paradata in the PinUK survey.
• How the story of the research relationship emerges through paradata.
• How paradata reveal research practices.
Actions (login required)