Assessing the Impact of NCRM's Training and Capacity Building Activities 2011-2013
Moley, Sean (2013) Assessing the Impact of NCRM's Training and Capacity Building Activities 2011-2013. Project Report. NCRM. (Unpublished)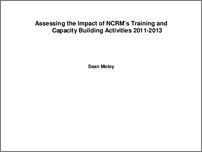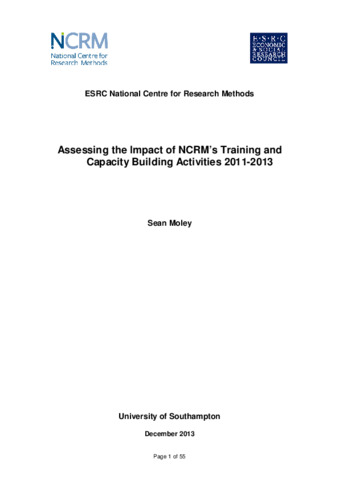 Preview
PDF (NCRM Impact Assessment)




MOLEY_NCRM_Impact_2011-2013.pdf

- Accepted Version
Download (449kB) | Preview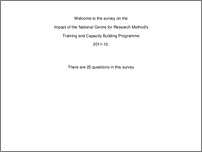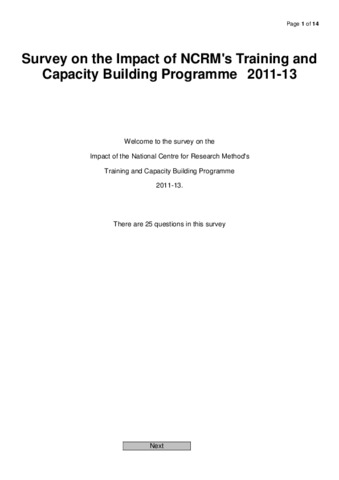 Preview
PDF (NCRM Impact Survey - Appendix 1)




MOLEY_NCRM_Impact_2011-2013_Appendix_1.pdf

- Accepted Version
Download (99kB) | Preview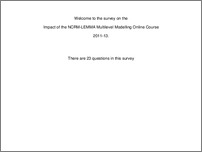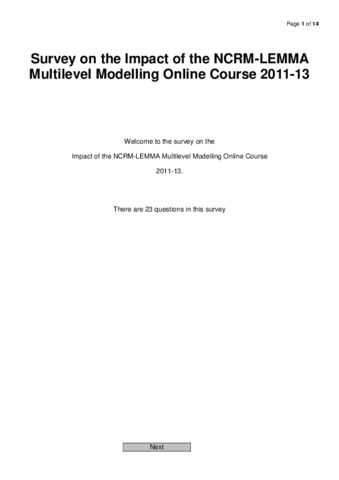 Preview
PDF (NCRM Impact Survey - Appendix 2)




MOLEY_NCRM_Impact_2011-2013_Appendix_2.pdf

- Accepted Version
Download (98kB) | Preview
Abstract
NCRM offers a national programme of advanced research methods training delivered both as face-to-face training events and an online course in multilevel modelling (provided by the LEMMA 3 Node). This current impact assessment seeks to gauge the impact of this provision and covers the period April 2011 to March 2013. It focuses on the use researchers make of what they learn from NCRM training, in particular on the use they make of it in research projects, in writing research funding proposals, in teaching and in the supervision of students.
The impact of NCRM's face-to-face training and the LEMMA online course were assessed using separate online surveys. 1,695 registrants at NCRM events and 1,782 users of the LEMMA online course were invited to participate.
The main benefits of NCRM provision were seen as "providing opportunities for clarification and reflection", "increasing knowledge about research methods" and "providing useful references and other resources". The main impacts were seen as "teaching researchers something new about advanced research methods", "helping clarify the relevance of the methods" and "helping to make researchers more confident".
The surveys of impact consistently reflect the positive impact of NCRM capacity building, not only in terms of bids for funding, research activity and publications but also as a source of inspiration to researchers, a facilitator of reflection, and a means to empower researchers and build their confidence. The impact of NCRM provision is not just in terms of better quality research but also in terms of better informed and more motivated researchers. NCRM's provision is well regarded and attracts researchers from across the career spectrum of social science in the UK. Very many of the researchers from all career stages who avail of NCRM's provision are research active and publishing in prestigious research journals. NCRM has therefore succeeded in engaging with a prestigious group who are at the forefront of social science research and who value the contribution NCRM makes in terms of its training and capacity building.
Actions (login required)