Interview Approaches to Researching Embodiment
Price, Sara and Jewitt, Carey (2013) Interview Approaches to Researching Embodiment. In: CM SIGCHI Conference on Human Factors in Computing Systems, 27/4/13-02/5/13, Paris, France. (Unpublished)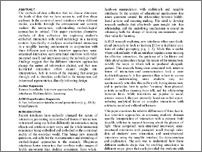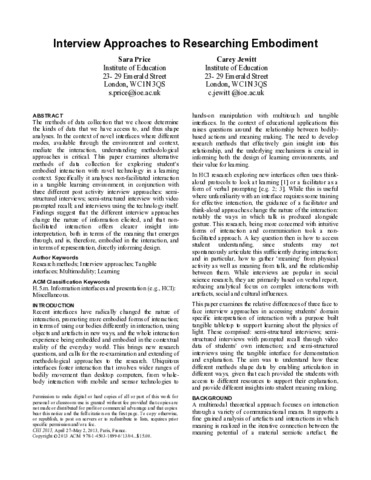 Preview
PDF




1_Price_Jewitt_final_CHI.pdf


Download (693kB) | Preview
Abstract
The methods of data collection that we choose determine
the kinds of data that we have access to, and thus shape
analyses. In the context of novel interfaces where different
modes, available through the environment and context,
mediate the interaction, understanding methodological
approaches is critical. This paper examines alternative
methods of data collection for exploring student's
embodied interaction with novel technology in a learning
context. Specifically it analyses non-facilitated interaction in a tangible learning environment, in conjunction with
three different post activity interview approaches: semi-structured interviews; semi-structured interview with video prompted recall; and interviews using the technology itself.
Findings suggest that the different interview approaches
change the nature of information elicited, and that nonfacilitated interaction offers clearer insight into
interpretation, both in terms of the meaning that emerges
through, and is, therefore, embodied in the interaction, and
in terms of representation, directly informing design.
Actions (login required)