MethodsNews Spring 2013
Puustinen, K and Nind, Melanie (2013) MethodsNews Spring 2013. NCRM.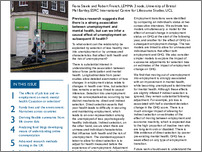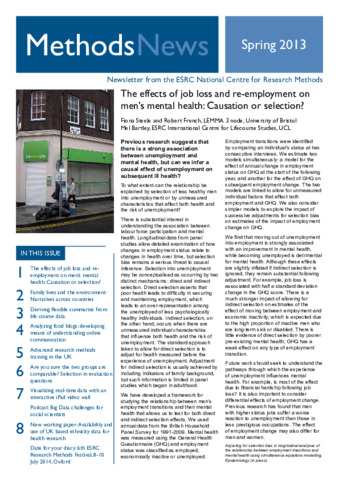 Preview
PDF (MethodsNews Spring 2013)




MethodsNewsSpring2013.pdf


Download (2MB) | Preview
Abstract
Contents:
The effects of job loss and re-employment on men's mental health: Causation or selection? by Fiona Steele, Robert French and Mel Bartley;
Family lives and the environment: Narratives across countries, by Janet Boddy;
Deriving flexible summaries from life course data, by George Ploubidis and Richard Silverwood;
Analyzing food blogs: developing means of understanding online communication, by Gunther Kress, Carey Jewitt, Myrrh Domingo and Elisabetta Adami;
Advanced research methods training in the UK, by Sean Moley and Rose Wiles;
Are you sure the two groups are comparable? Selection in evaluation questions, by Monica Costas Dias;
Visualizing real-time data with an interactive iPad video wall, by Steven Gray, Richard Milton and Andrew Hudson-Smith;
Podcast: Big Data challenges for social scientists;
New working paper: Availability and use of UK based ethnicity data for health research;
Date for your diary: 6th ESRC Research Methods Festival, 8-10 July 2014, Oxford.
Actions (login required)