Advanced Research Methods Training in the UK: Current Provision and Future Strategies
Moley, Sean and Wiles, Rose and Sturgis, Patrick (2013) Advanced Research Methods Training in the UK: Current Provision and Future Strategies. Project Report. National Centre for Research Methods. (Unpublished)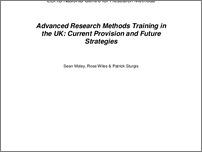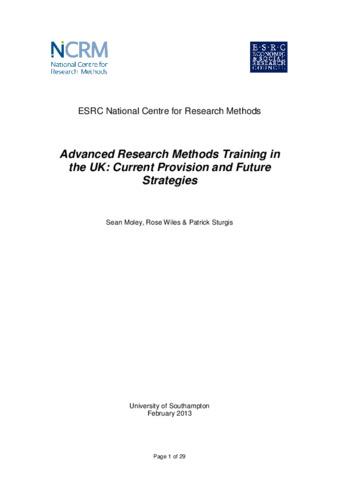 Preview
PDF (NCRM Needs Report 2013)




NCRM_Advanced_Research_Methods_Training_in_the_UK_Current_Provision_and_Future_Strategies.pdf

- Accepted Version
Download (282kB) | Preview
Abstract
This report takes stock of the ways in which the national need for advanced methodological training has been assessed and addressed and provides a comprehensive descriptive account of current and recent ESRC provision of advanced methods training.
In addition, the report explores three important topics:
- How national needs for advanced methodological training should be assessed and addressed?
- What funding and charging models should be used in delivering advanced training? and
- What modes of delivery are most appropriate?
These issues are explored and discussed in consultation with a range of key stakeholders (n=16). We review our own experience and the views of our interviewees on each of these topics and use these to make recommendations for assessing and addressing advanced methodological training in line with ESRC's strategic objectives.
Actions (login required)