6th International Conference on Multimodality - Conference guide with abstracts
Bezemer, J. and Jewitt, C and Kress, G and Waring, Anna (2012) 6th International Conference on Multimodality - Conference guide with abstracts. n/a. (Unpublished)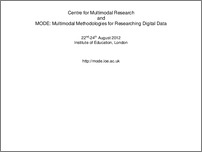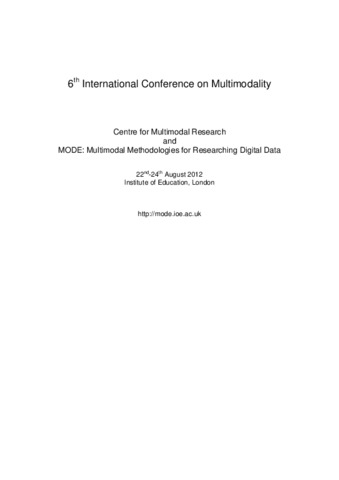 Preview
PDF




6ICOM_Abstract_booklet_full.pdf


Download (1MB) | Preview
Abstract
The aim of the conference was to contribute to moving forward the field of multimodal research and to help connect the diverse community of scholars working within it. 6ICOM is a place where we can explore the full range of different ways in which multimodality has been taken up and where we can recognize their points of connection.
The conference was organised with support from the UK's Economic and Social Research Council, who fund MODE. MODE is a node of the National Centre for Research Methods based in the Institute of Education and aims to develop and promote multimodal methods for researching digital data and environments.
6ICOM's programme includes an impressive set of paper presentations (125) and invited keynotes (5). The presenters engage with a wide range of disciplines, ideas and methods, reflecting the diverse character of multimodality and latest developments in the field. They speak to a range of contexts, theoretical and methodological approaches, technologies and types of data.
Actions (login required)