MethodsNews Summer 2012
Puustinen, K and Crow, Graham (2012) MethodsNews Summer 2012. NCRM.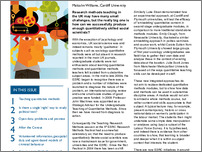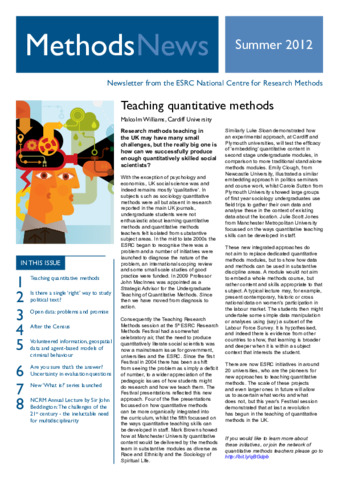 Preview
PDF (NCRM MethodsNews Summer 2012)




MethodsNewsSummer2012.pdf


Download (1MB) | Preview
Abstract
Contents: Teaching quantitative methods, by Malcolm Williams;
Is there a single 'right' way to study political text?, by Cheryl Schonhardt-Bailey;
Open data: problems and promise, by David J. Hand;
After the Census, by David Martin;
Volunteered information, geospatial data and agent-based models of criminal behaviour, by Nick Malleson and Mark Birkin;
Are you sure that's the answer? Uncertainty in evaluation questions, by Mike Brewer;
New 'What is?' series launched, by Graham Crow; and
NCRM Annual Lecture by Sir John Beddington: The challenges of the 21st century - the ineluctable need for multidisciplinarity.
Actions (login required)