The Grammar of the Reporting of Qualitative Research
Thomas, James and Taylor, Chris and Barnett-Page, E (2009) The Grammar of the Reporting of Qualitative Research. Project Report. NCRM. (Unpublished)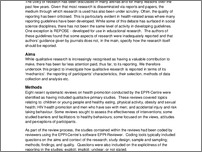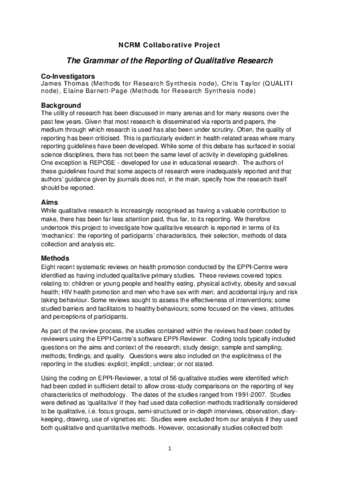 Preview
PDF (This is a report from an NCRM collaborative project in 2008-09)




Thomas_report.pdf


Download (32kB) | Preview
Abstract
The utility of research has been discussed in many arenas and for many reasons over the past few years. Given that most research is disseminated via reports and papers, the
medium through which research is used has also been under scrutiny. Often, the quality of reporting has been criticised. This is particularly evident in health-related areas where many reporting guidelines have been developed. While some of this debate has surfaced in social science disciplines, there has not been the same level of activity in developing guidelines. One exception is REPOSE - developed for use in educational research. The authors of
these guidelines found that some aspects of research were inadequately reported and that authors' guidance given by journals does not, in the main, specify how the research itself should be reported.
Actions (login required)