MethodsNews Winter 2010
Puustinen, K and Crow, Graham (2010) MethodsNews Winter 2010. NCRM.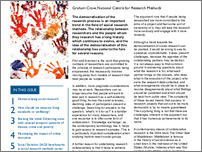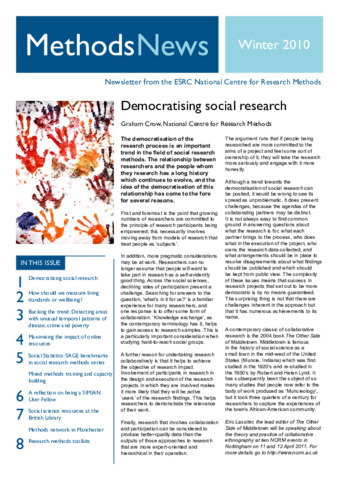 Preview
PDF (NCRM MethodsNews newsletter Winter 2010)




MethodsNews_winter2010.pdf


Download (1MB) | Preview
Abstract
Contents: Democratising social research, by Graham Crow; How should we measure living standards or wellbeing?, by Thomas F Crossley and Liam Delaney; Bucking the trend: Detecting areas with unusual temporal patterns of disease, crime and poverty, by Guangquan Li, Nicky Best, Anna Hansell and Sylvia Richardson; Maximising the impact of online resources, by Kaisa Puustinen and David Martin; Social Statistics - SAGE benchmarks in social research methods series; Mixed methods training and capacity building, by Vanessa May; A reflection on being a SIMIAN User Fellow, by Mark Temple; Social science resources at the British Library, by Sarah Evans and Sophie Villiers; Methods network in Manchester; Research methods toolkits from Realities.
Actions (login required)