The art of generalisation in real life research
Mason, Jennifer (2008) The art of generalisation in real life research. In: Vital Signs: Researching Real Life, 9-11 September 2008, University of Manchester. (Unpublished)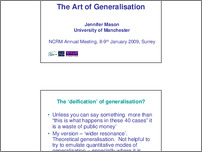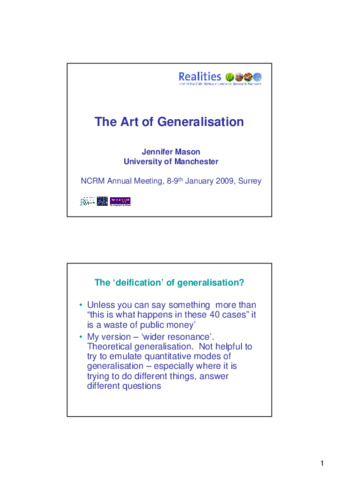 Preview
PDF




vital-signs-4-a-mason.pdf


Download (858kB) | Preview
Abstract
Qualitative researchers have traditionally and convincingly argued that their methods provide
a distinctive insight into the rich complexity and nuances of social life and experience. The
recent tide of research using methods that aim to capture the tangible, intangible and sensory
dimensions in everyday 'real life' experience arguably brings yet greater possibilities for insight.
This is because these approaches can provide data and knowledge that seem 'vital' and
evocative in a way that the more sterile abstractions and categorisations (in text and number)
that social science sometimes deals in may not.
But these approaches also raise in stark form questions about how such insights can judged
and weighed as 'social science', and whether they have any resonance outside of the
particular situations and circumstances under scrutiny. Of course qualitative researchers have
always been haunted by the accusation that although their work may provide fascinating
insights, it is 'only' anecdotal, because the methods do not allow for generalisation, according
to conventional (statistically derived) conventions. However, the conceptual separation of
generalisation from insight that this implies (or at least suggests is possible) is worrying.
In this paper I shall outline a case for generalisation as an art, in which the concept of 'insight'
is central rather than incidental. I shall draw on 'real life' data and insight from projects on
Family Resemblances and Family Backgrounds, conducted as part of the Real Life Methods
programme of the ESRC National Centre for Research Methods.
Actions (login required)