The presentation of a moral self in personal narratives
May, Vanessa (2008) The presentation of a moral self in personal narratives. In: Vital Signs: Researching Real Life, 9-11 September 2008, University of Manchester. (Unpublished)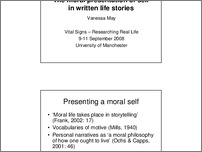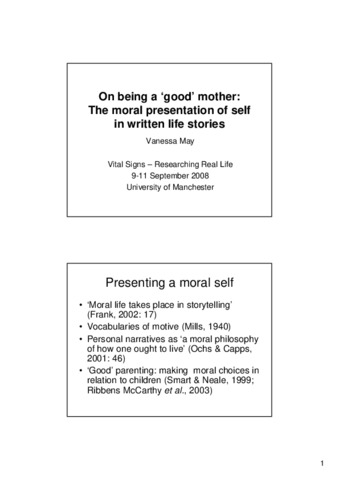 Preview
PDF




vital-signs-3b-may.pdf


Download (16kB) | Preview
Abstract
This paper examines how mothers negotiate the sometimes tricky waters of presenting
themselves as 'moral' given potential or actual breaches against social norms governing
motherhood. I look particularly at the case of divorce/separation and lone motherhood in
Finnish women's written life stories. The life stories offer insights into how individuals account
for their actions in situations where they face the moral dilemma of clashing ethical norms –
care for self and care for children – and how individuals with a (potentially) 'spoiled identity'
manage a moral presentation of self. The paper concludes by critically examining the
consequences of using written life stories rather than face-to-face interviews as data in a study
of the moral tales that individuals tell.
Actions (login required)