Reflections on methods: Contemporary challenges for sociological approaches
Smart, Carol (2008) Reflections on methods: Contemporary challenges for sociological approaches. In: Vital Signs: Researching Real Life, 9-11 September 2008, University of Manchester. (Unpublished)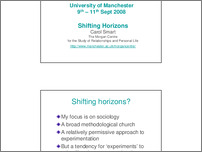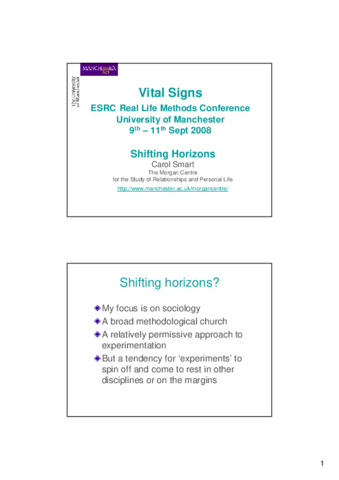 Preview
PDF




vital-signs-2a-smart.pdf


Download (98kB) | Preview
Abstract
Sociology has long been a fruitful disciplinary field for feminist work and, in turn, feminism has
contributed a great deal to Sociology both substantively and methodologically. Feminisms'
early challenges to positivistic and male-oriented methods were crucial in positioning
qualitative methods and particularly the in-depth interview as central to the discipline. In this
paper I shall acknowledge this heritage, but will suggest that there are new challenges to the
methodological strategies and codes that have been established over the last couple of
decades. In particular qualitative research in sociology has begun to recognise the limitation of
the typical in-depth interview and also to some extent the limits involved in a strategy of
merely giving 'voice' to experience. The emphasis on linear narrative is increasingly
recognized as limiting and as flattening out the range of things that matter to people in their
everyday life. There is a greater understanding of the importance of the intangible. This might
mean the invisible connections between people revealed in looks or particular expressions
more than in words. Or the intangible might exist in the significance of memory or even in
aspirations for the future. It is, in part, the realm of the imaginary, but it is more than this
because it is personal and not solely cultural, and it exists 'in between' people and not simply
within the person. Of course amongst these facets of everyday life that research has not really
grasped and/or reflected have been emotions and feelings. While the latter may have featured
much in feminist work elsewhere, within sociology feminist work still struggles to deal with
emotions.
In this paper I shall explore a number of these issues and will draw on research projects in
which I have been closely involved. (These will include interviews with lesbians in long-term/
committed relationships and interviews with children.) Through these I shall discuss the value
of different emergent methods such as visual elicitation, the focus on relationships and
relationality through interviews and other devices, and also the renewed attention to both
listening and writing. I shall argue that although it is possible to benefit from incorporating new
devices and strategies in the research process, what we hear people say is still influenced by
theoretical frameworks which may induce forms of deafness. In addition, how we write what
we hear/understand may still be constrained by disciplinary protocols which cannot (yet?)
accommodate more innovative forms of expression.
Actions (login required)